Found this on Craigslist. This is a Yocar wheel assembly mounted to a steel box. : 1 wheel utility trailer - One wheel utility trailer, dual hitch, 45 x 41" and 1' deep. This is the type of trailer seen towed by a classic car or truck. In fair condition, needs a little work. Hardware included.





Here's a couple of picts of a trailer that my dad had in his backyard for the past 25 years. I have no literature or paperwork, but hope to have that taken care of this week. I still have some work to do as far as painting the frame and adding some 1.5 inch tubing rails painted to match my bumpers and roll cage. Also, do you know what the requirements are for lights in CA? I see that some on the site have lights, and some don't. I guess DMV will be able to set me straight. I haven't had time to make the steel rails, so I soldered some 3/4" copper for now. Added a Ford Model A tail light, some reflectors and a cargo net from Harbor Freight. Thanks for posting the photos. Steve







"TINY TEARS" Teardrop Trailer 1936 Uni-Wheel Trailer pictures on eBay Page. The 1936 Uni-Wheel Teardrop Trailer pictures on eBay. I saw this trailer on eBay. I had to have it. The story is that it was built in 1936 by a guy out job hunting during the Great Depression. It seems that there were a number of people that built travel trailers so that they had a home as they followed the work around the country. Owned by John B.



























































Found this ad on Ebay, the ad reports it as an Allstate, but it matches the Yocar trailers: "This is an original sears allstate one wheel trailer that can be pulled by small cars, it is in great shape, and still has the original allstate badge on it, it will need cleaned up. It has current registration in CA. It will need mounting brackets to mount to your car, other than that its a sweet trailer and would be great restored or behind your car or van crusin. payment due in a week."






Here are some photos of the "YOCAR", when I clean off the vin plate I take a photo and send to you. As of the history, I know very little, my brother found it 20 years ago and picked it up from someone. It had a plywood box on top, and you can see where someone added about a foot in length with angle iron. There were 2 balls with a bumper clamp of some type, (my bother never used it and now can't find them) I'm still looking at his place. It had a lawn mower tire & wheel with a make shift axle, none was rated for highway use. I have new wheel tire and axle now, and am having a new bed and side racks made out of metal. Owned by Scott Brown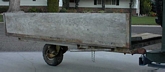 This is my Yocar trailer. More info on the porject can be seen on My Yocar page.