Montgomery Ward & Company (Trailerette)
Model: 61-8812

Dimensions
48" wide
53" long
11" high
65 lbs
750 lbs payload


Montgomery Ward is one of the early retailers of the Single Wheel trailers, as there are a couple examples of mid to late 40's trailers here. There were at least 2 different trailers and 3 different body styles sold by Montgomery Wards. From one of the newest entrys into this page, at least one was built by the LA Young Spring and Wire Corporation, out of Oakland Ca. According to the plate on the wheel assembly, the trailer has a 750 lbs load capacity. This model is equipped with 2 swivel wheels instead of just one. Both wheels are rated at the 750lbs, capacity, but it isn't known what the weight rating on this trailer actually is. While this seems to resolve the mystery of where at least one of these trailers was manufactured for Montgomery Wards, knowledge is still extremely limited and as of yet, the underlying manufacturer of the other trailer may still be unknown. It is possible that the LA Young Spring and Wire Corporation built both trailers, but there hasn't been an example of the other trailer with the LA Spring plate. If you have any info, literature or pictures of any other Montgomery Wards trailers drop a line and tell me about it.
Hello, I have seen your webpage for awhile and decided to send you some photos of my Montgomery Ward Trailer. I think is 1953 but I'm not sure. The bed is custom built at the welder's shop. I have 4 springs missing and 1 rim. But I'm looking for other alternative to replace those. My dad store this trailer in the Mechanic's yard years ago (he purchase the trailer for 65 dlls from some guy). The bed was in pretty bad shape and was not repairable. unfortunately I didn't take pictures when I found it. The trailer have desmontable hitch for space porpuses (I have small garage).I drove the trailer arround the neighbourhood and everything was ok. I still have some work to do on this trailer but is going to be finish soon. Is Currently in Tijuana, Mexico.... across the border is San Diego Ca. I check my mail all the time so feel free to reply, I have more photos of the proyect. Regards, Roberto L.















Found this Ebay: Vintage Tagalong trailer unknown make - I have a vintage tagalong trailer, unknown make of trailer, guessing allstate mabe, 1930's or 40's, tandom wheels, no tail gate.




Montgomery Ward single wheel trailer 61-8812 - Thought you may be interested in seeing these because of your website. Nathan Wright





Found this on TheSamba.com: Montgomery Ward's Trailer. Similar style to an Allstate single wheel trailer . Its in good shape, rust and some dents. Needs tires.




Below are some pics of the welds and the wheel assembly. They look like factory welds to me. Let me know what you think. Eddie Ward. Here are some new pics of my "Trailerette"












My name is Eddie and I live in Kansas City, MO. I just purchased a Montgomery Wards Trailerette trailer today. I will attach some photos. I was wondering if you knew anything about this piece or might know of someone who would. The tag on it says: Montgomery Ward and Co., Trailerette, Model: 61-8812, Serial # 1245











Found this for sale on E-Bay: Here is a Montgomery Ward trailer it is in great shape for its age and it came from a doctors estate sale. It has a broken part that attaches to the bumper of your car and is missing the spring showing in the pics. The bumper brackets will come with this trailer. This is a nice little vintage trailer hard to find.








Howdy, I picked up this old trailer and your web site about old Allstate trailers is about the closest I've come to identifying it. Any ideas or information would be great! Thanks.......Rod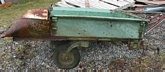 Now owned and beautifully restored by Larry & EllieWinther Hi, I noticed on your site you have some pictures sent to you of my trailer by the previous owner. They are on the Montgomery Wards page. I now own the trailer and did some work to bring it back from the dead. It is a Wards trailer that had some extra bed length added. It had the original wards tires on it when I bought it. One of the wheels was rusted beyond repair so I got some new 8 inch trailer tires, rims and hubs. Stripped the bed off and blasted the frame. This frame is super heavy duty. Came with 2 kick stands. This Trailer is unusual in that it has 2 wheels instead of one and the arms have springs in addition to the springs on the wheel assemblies. I believe it was designed for heavier loads. Most other trailers I've seen don't have the suspension on the arms. I decided to scrap the bed and start from scratch as it was pretty heavy and a bit on the rusty side. I put down new steel bed and covered with birch door skin. The bed was custom made to resemble the westfalia roof rack on my bus. The gates are aluminum with steel posts. The gates are aluminum and the tail lights are '28 Ford. I fabbed the hitches out of square tube steel and mounted them under the stock bumper brackets. No holes or scratches to the bumper. It pulls nice, looks pretty cool behind my 65 Westy and holds plenty of camping gear. Thanks for the great web site. Feel free to use the photos. Keep up the good work with your website. I found it very helpful in identifying my trailer. Cheers, Larry & EllieWinther