Randar Wheels sent me the link to rbassmasterís Photobucket of his 1971 High Top Camper and Harris trailer.
















Found this on Craigslist: ONE WHEEL TRAILER - Old cool one wheel trailer.




Harris Mfr co single wheel trailer serial #5164. I picked up another frame with wheel today... will attach my good bed to it and fully restore it... do you have any detailed pictures of these things in original form so I know what color to paint it? thanx, john meister snohomish, washington








Found this on www.volksrod.com.


I restored it to new contition change some rotten body panels and sand, painted as my bus orange red and ivory. Please publish my story. I am proud, I think this is the only single in Mexico. I bought this Harris Single Wheel at The Samba, from someone in Albuquerque. This are before and after pictures. Thanks, Francisco Barron, Juarez Mexico











Found this on Craigslist: single wheel trailer - Rare, old harris single wheel trailer. In good shape. Needs new lens for tail lights. Perfect for volkswagons. I dont have the clamps for it but they can be easily made. Thanks, Jaime





Found this on Craigslist: VINTAGE SINGLE WHEEL TRAILER FOR SALE (RESEDA) - COMPLETE SINGLE WHEEL TRAILER WITH SPARE TIRE; NEEDS TO BE RESTORED. MAKE ME AN OFFER!!! CLEANING OUT THE GARAGE EVERYTHING MUST GO.




We went and saw this trailer. It is very cool, but pretty rough. It appears somebody took a Harris frame and wheel assembly and bolted this body to the trailer frame. It had some very cool features, like a screen door, mounting for a spare tire, some shelving and storage behind a front flap-door. The inside of the trailer was lined in finished wood. Even though it was a cool trailer, the problems we saw, were concerning. The body overhung the frame by 2 1/2 to 3 feet and the body has some rotten areas on the passenger side of the siding.














Found this ad on The Samba. Harris Single Wheel trailer.This is an early Harris trailer, it is in good shape aside from some rust, I used it to haul parts around in my bug for about a year worked very well and I never had a problem with it. This would be a great accessory for any bug and comes with a bus 3rd Brake light (works) and a brand new tire.





Found this ad on The Samba. Harris Single wheel trailer. Single wheel Harris trailer this should fit any bus or bug. 4 feet long 3 feet 7 inches wide and 9 inches deep.







Found this on CraigsList: Harris Manufacturing one wheel trailer - Has one wheel. Has new bearings, seals & new wiring. It is 48x41 inches wide. Nice for R. V. or Street Rod. Has a spare tire & wheel. Weights 185 # net. Gross weight 500.




Found this on TheSamba.com: Harris Single Wheel Trailer, Vintage Trailer, Harris Single wheel, Up for grabs is a '63 Harris Single Wheel trailer. The body is powder coated medium gray. Corners are polished aluminum. New stainless nuts/bolts. New tire. Marine coat wood slats on bed deck. Tail lamps mounted, not wired. Wiring will be specific to your pig tail and hook up. I restored this about 8 years ago. There is some patina on the deck from grinding shavings from other projects in the past. Under the deck are 4 posts to insert "pop-up tent" style leg braces. These keep it up right when not in tow. The current legs are box steel and rusted. Clean and paint or go aluminum when you get it. You will need to make custom clevis brackets to install on your ride. The pull arms are there, just no parts to attach to your bumper. Approx 4ft by 4ft, easy to lift with 2 guys.





Jon Terry's Harris trailer. Looks to be in pretty good shape.







Found this on The Samba. 1962 Harris single wheel trailer. It has been sandblasted and painted with sealer. new floor welded in, ready for primer and paint. Perfect for towing behind your VW or Hot Rods for picnic or car show / swap meet. bed size is 42 x 48. comes with bumper brackets.







Found this on Craigslist: Vintage single wheel trailer for VW Hot Rod etc - Vintage single wheel trailer with title and original California black plate. I bought this to tow behind my old VW bus but I have lost interest in doing it up as I originally planned. Wheel spins freely but the whole trailer probably needs to be cleaned up. I don't have the bumper mounts but I have seen other fab some up fairly easily.





This cute little one wheel trailer was made by the Harris Manufacturing Company of Stockton California. Weight is stated as 185 lbs. empty with a 500 lb. capacity. The tub measures only 49" long by 43 1/2" wide by 9 1/2" tall. The overall height when level is about 28". The tire is a 4.80 - 8 size. This should be a fairly easy restoration. The only significant issue I see are that the sides of the tub have some extra holes and some rust out in them. These are simple to make parts made of 16 gauge sheet steel, and are bolted in place only. The floor and all the formed, or cast, or proprietary parts look like they will clean up nicely. The Harris is a fairly simple, but very well built trailer.







Found a bunch of pictures from the 2004 Classic. We didn't get to meet the owner until he was rolling out, but got these pictures.















A visiter to the site sent me a link to a forum at www.old-droppers.com where I found all of this picture.


Harris single wheel trailer with Aerol aluminum wheel. I think the wheel may be worth as much as the trailer to an old airplane restorer. I have narrowed the arms that hold it so the arms would fit between the over rider bars on a split window bus. I have home made powder coated clamps. Has a Hella light on the back of it. Wheel seals are shot. Has a little rust. Here are some pics. I also have the original clamps. Hello, I have a harris single wheel. It has an aerol brand caster wheel on it..... off an airplane from the 50's-60's. Owned by Chad Yarbrough.







Found this on The Samba. Single Wheeled Trailer Restored/custom 1940's to 1950's single wheeled trailer Restored/custom 4'X4.5' or so. very nice. Owned by Scott Buzick.









Found this on The Samba. 1946 Harris single wheel trailer in very good original condition. I picked up this trailer from the son of the original owner (the son is about 60 years old). The son repainted the trailer 20 plus years ago using industrial grade paint (which is what I think saved it) but the paint is scratched and chipped from use. This trailer also spent most of its life stored inside of the garage, so there is little to no rust (the main reason that saved it). I also received the original bumper clamps (not shown). The OG owner and his son must have towed this behind a vehicle with a tall bumpered vehicle as evidenced by the arm up so high. If this were connected to a type two, the arms would need to be flipped (right arm to the left side and the left arm to the right side which would put bring them down to bus bumper height. The trailer has a clean title, is registered in my name and I have the license plate. Imagine this trailer behind your type 2 with a canvas tilt on it (single/doublecab style) VERY COOOOL !!!! Thanks, Brad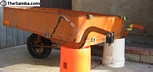 Saw this combo at the '05 Classic in the swap area, and had to get a few pictures. Didn't see the owner to talk to him/her, but looks like a nice trailer.






Found this on The Samba. kool trailer no rot out. sweet patina.






Very nice single wheel trailer, comes with the brackets for the bumper. It as some surface rust and a couple of holes. Located Houston Texas




wheel mount with flat bed. tie down detail. hitch detail.'66 Econoline connection w/ bikr rack. dual curved leaf spring set. Frame 1" x1" angle iron. All frame pieces powder coated. All hardware Stainless Steel. Ball flange direct mount to ships channel bumper. Forged steel ball hitch. Forged 180 degree springs set. Swivel = 2" shaft with cylindrical plain bearing + thrust bearing mounted to frame on 4" plate and through bolt. Some "break-in" issues. Tolerance on swivel and hold down critical. Under no load "steering" wheel sometimes "hop-skips" if turn radius is cut too sharp. Caused broken spring. Repaired with NiChrome rod. Load dampens skip and forces follow steer. Solid mount bumper mount ideal for high speed run. Tested to 80mph. Hope you can use this. Owned by Mike.






My buddy Mark sent me these pictures from the Wolfsburg Wickedest show in Oct 2003 in Northern California. Owned by Jeff. "Ive owned the trailer for about 2 years now. I got it from a guy who got it from a guy in stockton ,ca. i dont know much about it their were no vin. numbers on it when i got it , so i had to reg. it under a homemade trailer. i also put the tail lights on it that i got at a swap meet awail back."




Hello I have a complete Harris Trailer for sale. I have a friend that ownes a metel dipping opperation, so I had him dipp the trailer to remove all of the old pealing paint. So right now it is in bare metel with a clear sealer. All you need to do is prep it and paint it to match your tow car. Previously Owned by Toby Pond




This auction is for a 1946 Harris Manufacturing single wheel trailer.The trailer has been restored with all new side panels and corner panels,all the panels are held together using stainless steel allenheads.The floor was blasted and cover in a silver Hammerite and there are mounts inside for tieing down loads.The tailights are repros of a 1948 Chevy tailight I put those on it since thats what the trailer had on it when I purchased it about 10 years ago.I also has an NOS orange 3rd brakelight which is from the 40s and says the word SLO when you hit the brakes.Also has vintage AAA badge of California.The trailer only weighs 185lbs and the manufacturer claims it can carry 500lbs. The tire is new and also has a new tube in it to,the wheel itself was disassembled and all new bearings and seals were installed.I do have a title for the trailer but the tabs are expired rite now.This is a sweet lil trailer and would look great behind and vintage ride.






Harris Single Wheel trailer. I would like to get 500.00 plus shipping. Trailer looks to be in good shape but is missing the back panel. Delivery for expenses may be possible. Contact Dale Reinhart for more. Trailer sold as of May 03.
















Found this on The Samba. Previously owned by King
"This is a "Wards" All metal One-wheel Trailer..complete w/mounting brackets. Its in Very good conditon! Only has one rust spot in the font panel (see pic) the rest is Rust Free. Has one of the nicest wheel & hubs I've ever seen on this type of trailer! It is all aluminium and would polish-out nicely. Just needs a new tire." This is not an Allstate or a Wards trailer but rather a Harris. Not sure if it sold or not. Location in Houston Texas.





Found this ad on The Samba. This is a Harris one wheel trailer that I bought from Lars it did not have any sides on it . In fact there are pics of it when Lars had it for sale on your web site. I made the brackets myself. Owned by George Johnson







This is an early 1950's Harris one wheel trailer. It has a new tire, rim and bearings and is ready to tow. The bad is that the original box sides are missing....but easy to make!-should look like a little pick-up bed...just wood or sheet metal sides. Previously owned by Lars





1950 Harris Trailer owned by Terry and Pat Olmo. This trailer and VW Bug combination were recently featured in Hot VWs January 2002. While I'm quite sure that the taillights on this trailer aren't original as they appear to be 60's European VW Bus taillights. This trailer was purchased a few years back from Randy Pickton.




I met up with Terry and Pat at the 2002 VW Classic event and got some pics of their trailer, but didn't get a chance to meet up with Pat later for her email, so Pat if you read this please email










This trailer is now owned by Rick Aldana. Pictures from the Busses By the Bridge in Havasu Arizona.





These pics are from the 2002 Classic. Notice the camping picture and how the trailer just backs right up the hill. Try doing that with a two wheel trailer.










Hi, I have been a fan of your GREAT web site since I bought my bus a year and a half ago. Now to get to the point, about two months ago I bought Beto's trailer from him and all ready have enjoyed it very very much. It was a hit at Famillien 8. I camped out next to Ronnie from Old Volks the night before. He was towing his own single wheel that he just had bought recently. Attached are a couple of shots of my bus and my bus towing the trailer, hope you like them. Rick Aldana