Hi, I have what I believe to be a 1961 Coffman Single wheel trailer, that was riding well until it encountered a log on the road that sheared the wheel, breaking the pot metal above the spring. And yes that is the REAL Stanley Cup! Thanks, Ross Alexander



Found this on Ebay: 50s-60s model tagalong single wheel cargo trailer. mfg. in venice, cal. weighs about 80 lbs, rated to tow 220 lbs. very cool and unique. fiberglass, in excellent shape,color is in gell coat,does not have hich. 2 pieces of 2" angle mounted to rear bumper and you are on the road. tire is a 3.40x3x5 goodyear. holds air, but is old.opens up and has a locking soport rod on each side. i can see this behind a vw or small sports car.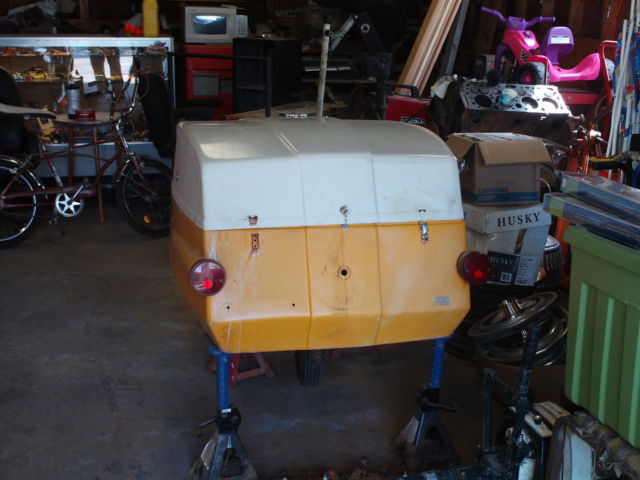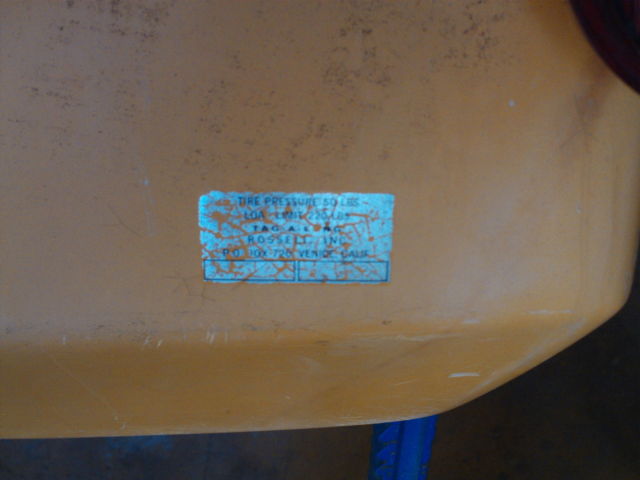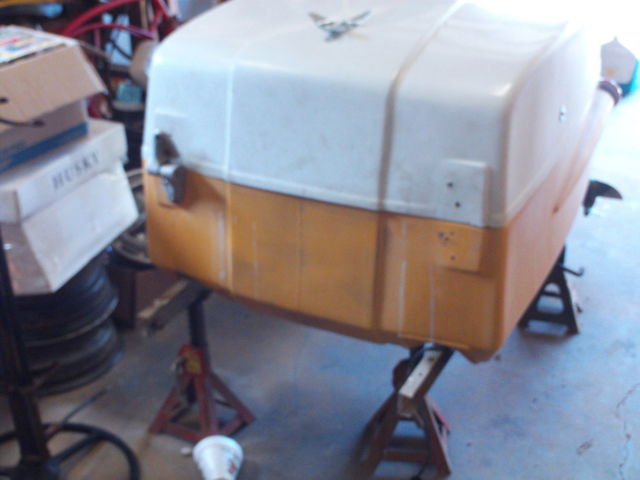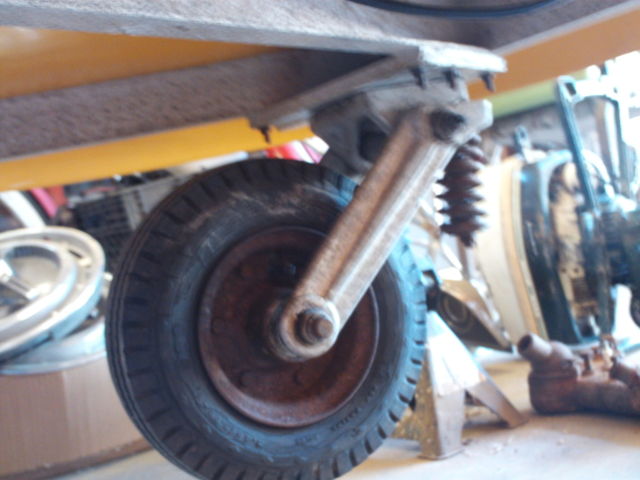 Found this on Craigslist: Single Wheel Cargo Trailer - Model A Ford Single Rear Wheel Cargo Trailer (Very Unique) that hard mounts to bracket at the back of the car -- this trailer was towed behind a Model A Ford all over the US. Spare tire included. Trailer needs repainting.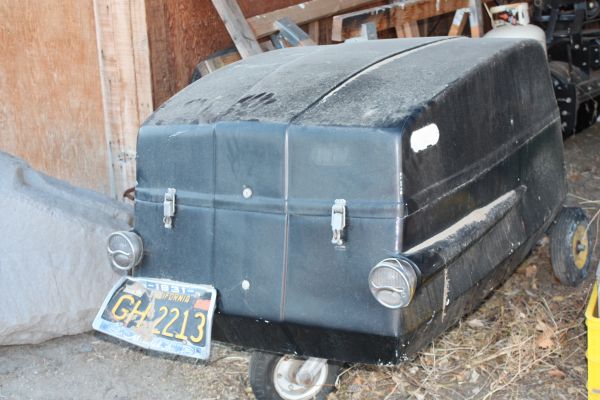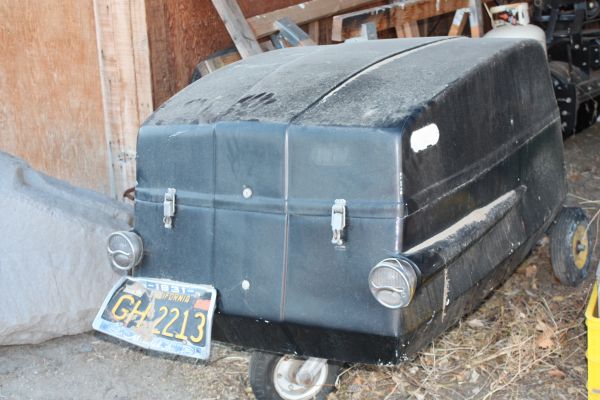 Found this while surfing the web at www.atomictoaster.com: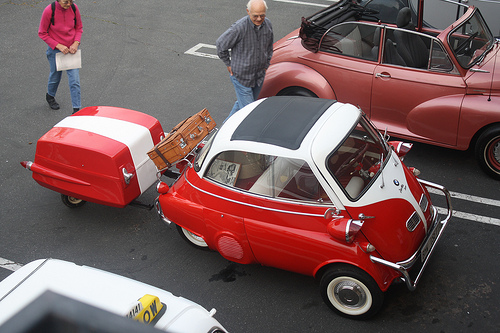 Found this on Ebay: Single Wheel Trailer. Old Original vintage Coffman Engineering single wheel trailer from the 1950's. Looks great on vintage volkswagens, rat rods or streetrods. Fiberglass body and aluminum frame with suspension. I bought this to restore for my vintage car but am selling the car now.










Okay.... let's try this picture of my Met and Rossell trailer. This is at the paint shop several years ago. - Paul in Yuma Nice site. if you'd like to add us to your Rossell section (I think), here's two pictures. We took the pictures of our car/trailer in Barstow CA about 6 years ago. - Paul and Brenda from Yuma, Arizona




I just acquired a nice Coffman tag-a-long for behind my vintage VW camper project. It's in great shape, been garaged for the last 20 years, last towed behind a AMC Gremlin. But the tires could be in better, more roadworthy shape. Daniel Stevens Brewerton, Ny.




hows it going we met at the bob baker show i was in the 21 window delux with the coffman trailer. here some pics..i paid 300 and cost about 900 to restore.










Martin del Orbe and his 2 sons are the owner of this Coffman trailer. We met at the Bob Baker 2010 show, where he brought the trailer on it's maiden voyage. He was very happy that it towed so well and that he couldn't even feel it back there. I must however apologize that I don't remember the owners name and hope he will email me soon so I can update this info.





















These are the four pics that Richard Lewis sent me to help identify his trailer:
Possible Allstate Tag A Long? Got any ideas what this trailer is? Thanks, Richard Lewis Riverside, CA












































































Found this on Ebay: VINTAGE "Tag-a-Long" Single Wheel Trailer -Extra RARE! This one is a "Tag-A-Long" built by the Rossell Co. in Venice Beach, CA. My guess is late 60's. The rails and frame are aluminum and the body is fiberglass. Needs a minor repair where the interior lift hinge pulled away from the fiberglass. I don't have the "mounting brackets" for it but with a little ingenuity, you'll figure it out. The single wheel is in good shape, but would need a new tire. Spare tire as shown is included. One broken lens on the tailight, but you could really snazz this guy up with some cool tailights. Wired for towing and with some TLC and grease on the bearings, you'll be a happy camper!





Early 60's Single Wheel Trailer - Early 60's Coffman Single Wheel Trailer Very nice original condition. Never been painted. Spare Tire. Has bumper clamps for Bug. Owned by John


I found my trailer about 2 months ago at a local junk swap meet. It was in the 3rd swap space on the first row I walked down. The guy had a bunch of junk and this trailer. He was asking $100, I bought it for $80. I was in my 1965 Bug with a factory VW roof rack. I removed the wheel from the trailer and put it on the roof rack to get it home. What a site that was, a Bug driving down the freeway with this trailer on the roof rack. I just sat it next on the bumper for the photos with the Single Cab. Both tires hold air and the spare is in excellent condition. Original tail lights. The hinges are frozen so the top hardly opens. It has the rubber mat inside. Nothings cracked or broken. The fiberglass is in Excellent condition. When I bought it home, Pomona was the next weekend. Friday night before Pomona I loaded my Single Cab for Pomona. When I finished my wife asked me 4 times if I loaded the trailer? She said take it you'll sell it right away. I left it at home on purpose. I like it. I left it in my yard and she could see it from the kitchen window when she was washing dishes while I was at Pomona. When I returned home from Pomona she told me "You have had a lot of trailers before and this is the nicest Little trailer you have ever had. Why don't you keep it?" Its great to have a wife who understands how a man must have his toys. Thanks to my wife I can keep this little toy. MrHanover@aol.com







Found in a corner of an old barn here in NY. This is the only sticker or tag on the trailer says: (TAG A LONG A PRODUCT OF COFFMAN ENGINEERING INC.) is made of fiberglass, and the measurements are approx. 48 1/2" long and 29" high. The wheel assembly uses a 5" rim. The Tail lights are model A trim rings I think? but look and work great. Tire size 3.40/300-5 Tires weathered but hold air, the spare tire is flat. I think the paint is original? It had bumper stickers on it and the top was light sanded. It has some chips and small cracks in the top (see Photos) The one frame rail is reinforced with metal. and the rubber matt inside is torn. Overall it in great shape and ready to roll. Will answer all questions as best I can at Andyu2@aol.com 70 lbs 200 lbs payload.



















Found this on Ebay. single wheel trailer, vintage scooter Isetta microcar. Auction is for a very rare single wheel trailer called a "tag-a-long". This trailer was built in the early 1960s by Coffman Industries in California. the trailer weighs in at about 65 lbs and can handle about 200 lbs of payload. This trailer was stored since at least 1969 so it is in remarkable condition. All hardware is original and in great shape, the hinges are heavy duty aluminum, all other hardware is steel. The body is fiberglass and in excellent condition, no damage. the color is original. The underneath frame is aluminum and is in excellent condition with all components in working condition. Both the tire and the spare tire are great and hold air with no problems. This trailer is sold with a bill of sale only. This is truly in great shape for it's age and a rare find. Additional info.: Two photos showing the attachment points have been uploaded. these attachment points would be secured to the vehicle via a bolt or pin.









Update from Dave Jones: Sir, VERY nice site by the way. My trailer is a "Tag-along", # "TAG 03008". I have had it since the seventies. I first saw it in 1970 when a friend from Stockton, CA drove it to Milwaukee behind his Model A. I got a hitch for the Model A with it. Several years ago, I started having difficulty finding tires. The only tires I could find where Go-cart tires and they were not street legal. So within the last 10 years, I replaced the trailing wheel assembly with a larger flat bed trailer I received in trade for some stuff. The larger wheel required the offset mount you see bolted on to the original frame, in order to keep the trailer level. I used to just disconnect the trailer and lay it over at Model A meets. It always took two people to hook up. Several years ago I decided to add the front wheels on the side. Now at meets, I just drop the wheels and push the trailer around using the T-bar handle you see in one of the pictures. It makes it possible for one person to hook it up, plus moving it into storage at home is much easier as well. The tail lights were originally just some generic ones. One day I looked at them and said, "Hey, I think Model A lights will work." I think they look pretty good, don't you? It was originally white, but I painted it to match the car. Dave Jones Mountain View Ca. "Tag-along", # "TAG 03008" Excellant condition






Pictures of my one wheel Tag-A-Long. My name is Dave Jones and I pull this trailer behind my 1930 Model A. I have owned this since the mid-70's and another local Model Aer had it before me. It was white but I painted it last year and put the larger wheel on. I also changed tail lights to "Model A" to match our car. I was stopped by someone last year who told me about your Web site, but I am a little slow checkin it out. I will fill out the info but couldn't figure out how to include a picture so am sending it this way. The picture was taken last summer on our Vacation trip. This was taken in the Olympic National Park in Washington. I had another fellow Model Aer tell me yesterday he has one as well, so I will forward him the Web info.


Currently owned by Randee of Randar Wheels. Coffman 1 wheel trailer - the trailer is in good shape body is fiberglass and the frame is aluminum. it is one of the most looked for trailers. is missing the brackets to hold to the bumper but looks eazy to make.










I have a fiberglass "Coffman" trailer. It was a single wheel trailer but my neighbor added an axle, a different tongue and painted it to match his Honda Goldwing which has pulled it through about 25 states. I've pulled it through seven states behind my motorcycle which is customized to resemble a 1947 Indian motorcycle. Here is a picture of the trailer in it's current configuration. I was trying to locate another one when I ran across you web site. Since I saw nothing like it on your site, I thought you would be interested. I've seen one other for sale on e-bay but it was missing the top.


These pictures were sent, but I forgot to copy the attached text. From the pictures, it appears that the dual wheel assemblies may be original. I've seen this on one of the Allstate Box trailers also.





























Sold on Ebay. "Neat Old Trailer..Can Be Pulled behind Auto or Motorcycle..Fiberglass box on a aluminum frame with one single swivel wheel..Box Size 40" long, 31" wide and 19" tall...Solid Box NO CRACKS...Red Paint is chipping off, looks as it was orignally black gel coat..Tire size 3.40/300-5 Tires weather checked...To Be Picked Up Near Quincy, IL 62301..May be able to deliver or at least get closer for small fee..Will answer all questions as best I can."








Now owned by Larry Powell: I was going too take some 1/4" x 1 1/2" wide cold roll flat steel. Heat and bend it to conform to the inside of the coffman casting. I was going to blind weld a 3/4" grade 5 bolt [headless] to fit in the coffman axle hole, and drill a 3/8" hole neat the top [grade 5 bolt]. for a axle I was going too use a Cushman motor scooter front hub, and use a 8" cushman wheel on it. [this axle has sealed high speed bearings]. Cushman uses a locking plate as a safety measure too keep the axle in place in case the 3/4 nut loosens. I was going too put a U slot for the axle to slide into, for easy tire changing. I have 2 coffmans and plan on selling at least one or maybe both. My idea would only add two 3/8 holes extra in the coffman in case someone wanted to return it to stock, these could be welded easy. I sure would love to see a close up pic of his modification. Larry






I have one with a sticker on the outside. Neither have a sticker inside. The red one is all original with lights, license plate light etc. The white one was restored by a guy at the McPherson Auto College [the one Jay Leno] likes. I have toyed with the idea of using one [the white one] behind my 1957 ford with a 2" receiver hitch that I made for the coffman [no changes at all] On the axle idea, please send me your info. I have the cushman eagle axle, hub, wheel already. It would only add 2 more holes that could easily be mig welded back too original and the 8" would give me the safety of a modern tire that will go high speed, the 5" is not rated high speed. I am attaching some pics of the red original one. and a pic of the tag on the white one. I will have too take more pics of the white one, [computer crashed & I lost all the pics] I may have too send 2 emails for all the pics. Larry
Funky old single wheel trailer with "springer" wheel. I think its missing something to clamp it onto the car? Fiberglass with aluminum frame. Purchased from The Samba by Chris Seegler.





Chris sent me the updated pics below. Here`s a few pictures with my 66 bug.....the trailer is missing the actual bracket? to hook it up to a vehicle so it`s sitting on some storage crates. This trailer sold (April 03) to Greg Banfill of the Vintage Warehouse.










Here's some pictures I took of my Coffman when I got home from the Classic. Greg (June 03)









I just bought a single wheel trailer and I don't know the manufacture. There is a tag inside the lid that reads (Rossell Inc, PO Box 720, Venice Ca.). The Coffman tag-a-long looks like the trailer I bought except the tow bars turn up. The Vin # or the serial # stamped on one tow bar is TAL 5504. I called the city of La Habra general information and they didn't find anything about Coffman Engineering as far back as the 60s. Owned by Gary & Jeanette Moen.
















These were the original photos that Gary sent me.














Owned by Brian Okelly. I believe it is early 60's. May have been bought in Fresno but that is only a guess. The inside fiberglass is mat style. There are no identifying marks on the trailer. The wheel looks to me as if it is a tail dragger wheel for an airplane. Aluminum and very high quality Here are some pics. Check out Brians site.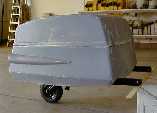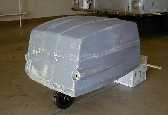 This combination was at the 05 Barrett Jackson auto auction in Scottsdale AZ. The combo sold for 19k from what I was able to find out. Hopefully Brian still checks the site here and will one day be able to tell us This was the first singlewheel car trailer to go across Barrett Jackson auction floor that I had seen. Here are the pics I took of it at BJ 05.











Sold on Ebay for $199. It is made of fiberglass, and the measurements are approx. 48 1/2" long and 29" high, and it is really, really cool! There is a round tag on the back of the trailer which says: TAG-A-LONG COFFMAN ENGINEERING LA HABRA CALIF. It was originally purchased from a Volkswagen dealer in Kokomo, Indiana area. Now owned by Craig Baum













Coffman singlewheel. All new bearings, tires, hardware (nuts and bolts), New custom fabricated wheel axle and pivot axle, Powder coating, taillights, latches and more. Just match paint to your car and assemble. $600 Owned by Craig Baum.