1955 Morris Woody with Allstate Tag-a-long single-wheel trailer. Morris Woody with one-wheeled Allstate trailer with matching wood. This car also has been updated with a modern Toyota Twin-Cam engine.



Sorry I can´t find your name on your great website, sir. I have an Allstate trailer ­ Patent number is 221 6584. Thanks for a very interesting website. Sincerely, Don Goddard Victoria, BC Canada




Found this on www.explorerforum.com: i just wanted to post a THANK YOU to those of you who posted about trailer wiring... with the information i found in here i FINALLY got my trailer lights to work. GRANTED, i had to re-wire the plug, as the wiring connector i bought for the trailer (round plug under left tail light to 4 plug flat) because it was incorrect. here are some pics of my rather UNIQUE setup... the trailer is a 1942 "trailcar" 1 wheel trailer. check em out.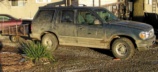 Hi, I am new on your site. I found out about single wheel trailers aboout a year ago when I first got into VWs. Never thought I'd have one but now I do!! I found it standing up in some guy's garage while riding down the road last week. When I stopped to ask if he'd sell it, he said he would. After a few minutes of discussion, he ended up just giving it to me!! He proceeded to tell me it was his grandfather's who passed away in 1992. He said it had been sitting there for as long as he could remember before that. When we pulled it down off the wall, we found it was last tagged in 1977 - been there ever since in the dry! I have been looking through your site trying to research it. Best I can figure, it is an Allstate "wood box" model judging from the frame and spring setup. It also had an Allstate tire on it. The ID plate looks a little weird though. (ID # X248630) It came with Fulton Bumper Clamps for mounting. I started working on it right away. I got a new tire, packed the berrings, painted and mounted the clamps, and painted the inside of the trailer. Next I will paint the frame and outside wood box to match my 71' VW bus. Please take a look at my pics - I will send more as progress continues. Any information you can provide on the possible make and year of my trailer would be greatly appriciated. Also I hope you can use pics of my trailer on your site and add to the registry. Thanks! Billy Gregory Winston-Salem, NC






Found this on Craigslist: Single wheel trailer - Modified Sears Allstate trailer. Have title and current tabs. Needs a new tire probably.




Hello, You have a great site. A lot of good information. The trailer, I'm just not sure what it is. I also have two of the two piece wheels along with other parts. Here are some pic's of my trariler and the parts.











Found this on Craigslist: Vintage Single Wheel Trailer - Sweet Single Wheel Trailer, Sears Allstate wood box version. Very solid, very straight, no rust on frame. Wheel suspension in good condition. No bumper hitch brackets. Custom Built box with functioning reproduction 58-61 Volkswagen Bus tail lights. Wiring harness, Serial# stamped on frame. We have not licensed it. Black and white wood box with blue pin stripe, aluminum rails, nylon sail boat cleats (tie downs) on sides. New tire and new spare. We were going to pull it behind our VW bus or VW bug, but, it's been in storage for a couple years. Need to simplify our storage situation, and we can't keep this SWT.





This is a trailer that I acquired that had been in a barn for a number of years. The wheel assembly is off a allstate trailer and the alumimun box is homemade. I disassembled the whole trailer, replaced the tire and the bearings, removed all the old handles and hardware off the box and started sanding the box with 150 grit sandpaper. Then I stepped down to 220 grit sandpaper and then buffed with nuvite compounding polish and then with metal polish. When reassembling I used all stainless steel bolts and fastners. I will send you a follow up email with pics of the new restored trailer that we intend to travel with to Alaska in the next few weeks. Gary Groveton, TX







Found this on the The Samba: 1957 Allstate Teardrop Trailer. This is a 1957 ALLSTATE single wheel trailer with a Teardrop Trailer built on its chassis. This trailer is custom built out of marina plywood which was stained, painted covered with canvas and ultimately covered with "Mirrored Aluminum" this material is used to build reflective lighting. It cleans easily with "GlassPlus" and shines like new money!. It is equipped with custom tail-lights and sports a license plate "eyebrow" from 66 Volkswagen Beetle. It also has a Empi rear bumper which is now installed and looks really sweet! The galley is equipped with stainless steel sink, and a alcohol stove from a cabin cruiser. The galley also comes with a 110 volt outlet and has one outlet inside the cabin. All four corners are equipped with permanantly attached self-storing adjustable leveling jacks that fold up under trailer out of sight. The interior is incomplete to allow you to customize it to your liking. However, it is completely insulated and will sleep two people 6 feet tall. The exterior door has a Volkswagen Type III window installed. The interior comes equipped with a 110 volt outlet. There is a 25ft. power cord which can be used to energize the cabin and galley which stores in its own compartment on the underside of the trailer. The interior is 46" Wide X 71" Long and is 42" Tall at the center of the cabin.











Trailer recently advertised on Ebay and here are some updated pics






Thought you might enjoy photos of my Allstate behind my wife's smart car. We took it camping in the Sierras this weekend. We call it "Micro-Kamping!" Enjoy your site! Lots of good info, so thank you! It helped me determine what our family had,so that I could go out and get another (and another, lol!). Pete









Hello, Stumbled onto your site again , which I love , and I'm not sure if I shared pics of my trailer finished . . . so here ya go. Keep up the great work ! Cheers, Randy Slack




I'm a new owner of a single wheel trailer :) After a good year searching, I found a guy who wanted to ship an allstate wheel meganisme and the brackets to me. Because I'm from belgium, the shipping costs would have been to high for shipping the rest. Now I've worked a good month on it, and this is the result:














For now it's in a protected paint because I've to paint my bug to, I'll do them together. Because I've heard that the hitchpoints getting a lot of force on them, I've made the 2 hitch points connected to my bug at the places where an original towbar normally is connected: Greetz Piet







Hi, I purchased an old Sears single wheel trailer awhile back and did some interesting things to it. I have a 1958 Metropolitan that I pull it with and I have outfitted the car to be a fire chiefs car since it is red and white. Naturally the trailer had to fit the theme so that explains the pictures. The trailer was in very poor condition when I got it with a rotted deck, no lights, etc. I think it is pretty cute now even though I'm prejudiced. BTW way I also have a Sears that appears to be made by YOCAR since the running gear is much like the pictures of the YOCAR. These pix of the fire trailer are also a Sears but a more recent one. Paul Gobat





Here are a few pics of a 1957 Allstate Wood Box. I decided to customize it to match my vert. Thanks for creating your site, it's what inspired me to find and fabricate my own trailer. You can use all the pics and post them on your site if you want. This is how I found it on ebay, paid $100. due to the high cost of shipping I had the seller just send me only the wheel assemby and the 2 mounting brackets. I went ahead and fabricated the frame out of 2" channel iron. Here's a mock up of what I wanted to do... Close-up of the bumper bracket I designed... The wood slats are made from tiger striped maple... thanks Lupe MoyaRound Rock, Tx.









trailer to place on your site. This trailer is a 1956 AllState. It's all wired neatly. It's currently registered in NOS 1956 plate.







1958 AllState Single Wheel Trailer. This version has a frame with 2 arms that attach to the tow vehicle and a single swivel wheel at back end. I have undercoated floor, added a metal side kit with removable tail gate, re-machined both sides of caster swivel, line bored fork axle bores, and added hitch recievers to each side at the front for removable trailer tongue jack/wheels. Trailer can be disconnected from tow vehicle and moved around easily. I towed this trailer with my 1985 Westy. Recently sold the Westy after 11 years and bought a small RV. I built a T-Bar that fits a 2" receiver hitch that I used with the Westy. Trailer fittings are mounted on the bar. Owned by Phil Williams Ft Worth, TX




(Right now I'm classifing this as an Allstate Wood trailer, but I'm hoping Scott will find something or we will see more examples of this trailer frame as it looks well built and doesn't appear to be a home built customization. AH) if you would like to post this picture to your site it definitely will be appreciated. i purchased this a few months back from a man who knew nothing about it, for $50.00. the wheel and swivel operate smoothly and as you can tell by the picture it has been repainted. i believe the original color may have been red-ish all over as the frame is still red (original?). the floor may have been replaced at one time, by a sheet of plywood "like" wood. i have ABSOLUTELY NO INFO ON THIS! it's a little frustrating and i will soon begin the painstaking restoration by slowly stripping the body to locate any decals or name plates. the sides have what appears to be little bullet style male snaps (which i have never seen before) some of which are broken off...these screw into the sides by the way. also located on the sides are squared (flanges?) loop type mounts to accept a hook for tie-downs (i believe these were added at one time, the welds are rough and unprofessional) it has a single taillight with a license plate holder. the clamps are pretty ingenious in design and appear to be brass (?). if you can get the ball rolling with help from your web-friends, i will update info and pictures soon. Owned by Scott Snyder







I recently purchased what I think is a 1956 allstate box trailer for my 1957 VW Beetle . I'm taking off the box and having a wood slat VW style rack made for the frame ( similiar to the calberlah ) . My only problem is that the guy I bought it from found it in California and it was registered a 2005 Homemade trailer . I want to register it as a 1956 so I can use a 1956 license plate legally , which I will do anyway , but would like to be legit . I can't seem to find a VIN # anywhere and the badge is gone ... any help on this matter would be greatly appreciated Owned by Randy Slack












(This trailer has been identified as an Allstate, by the wheel assembly and the 6 bolt wheel. 1/06 ah)
Found this ad on Ebay. "This auction is for a rare 1942 1 wheel trailer. This little trailer is 57 inches long and 39 inches wide with the floor about 18 inches off the ground. The end gate looks similar to an old truck tailgate with the old chain and hook type fastening. Bed of trailer is metal with a plywood underdecking on steel frame. Has a 400 x 12 inch tire and wheel in good condition. Hooks up under bumper of car or truck (but looks like it could be altered to fit different ways). Come also with trailer stands for parking. Our seller has been using this for years, and it is register for use in the state of Mo, thus has taillights, turn signals, and brake lights. With this being 60 years we would still say that it is in good condition, and has been used recently. Of course there be some rust found especially on the added on stands, but bed is good. The plywood looks a bit rough on the exposed edges.





I am in the process of rebuilding an Allstate one wheeled trailer and came across your site. I would like to send you info on my project. I picked it up about 11 or 12 years ago, from an uncle in Sundown, TX. near Lubock, TX. My wife and were on our way back from the Houston area back to our home in Heyburn, ID. and we stopped to visit some family in Sundown. As it is with many vacations you wind up with more stuff than you take, my uncle offered us this trailer, it had been sitting in his back yard for years, he really didn't specify. We hooked it up to the bumper and towed it 1700 plus miles home. The pictures will show a suspension similar to the one on the orange on of your buddy Mark's. I am wondering if anyone can give me some info as to year or aprox. year? Like a dummy I didn't get any before shots, but it is complete, it actually has a high trunk lid which allows you to store much luggage inside and out of the weather. After it gets restored it will tow behind my 1965 Ford Galaxy, (I've included a picture) and with a modified hitch type receiver, behind my 2000 GMC Yukon. The pictures will show it dismantled, it is on it's way to the get sandblasted. Will send more pics as more work gets done. Thanks for the site. Owned by RTorrez






These are pics of my Olds Ragtop and my 1946 Sears Roebuck Allstate Trailer. Please put the pics on your great web site for all to see and share.























This is Jon Lane's Allstate trailer. Submitted by Jon Lane of the Der Kafer Fahrer







We purchased this in Santa Cruz, Ca. from the nephew of the original owner. He said that it's been in his family for as long as he can remember. It's just always been there and then he inherited it from his uncle. There is not a number on it anywhere, just the word patented. But, the man we bought it from said that he knows for an absolute fact that his uncle ordered the kit from Sears. It seems like it may be one of the less popular wood trailers you were speaking of in the article on Allstate trailers. It also has additional rails that can be attached which make the side walls twice as high. I tried to get a good pic of the tailgate but don't know whether I lightened it enough to see but the tailgate is hinged and the pins that lock the tailgate are made of wood. Almost shaped like a key only thicker. Owned by Donna Renfro and her husband.