Wade from DropGates.com sent us pictures of this trailer. Sears single wheel - Hello, I found this one at a swap meet. Took pics for your site. Now I am glad I did because I don't see sears on your site. Enjoy! -Wade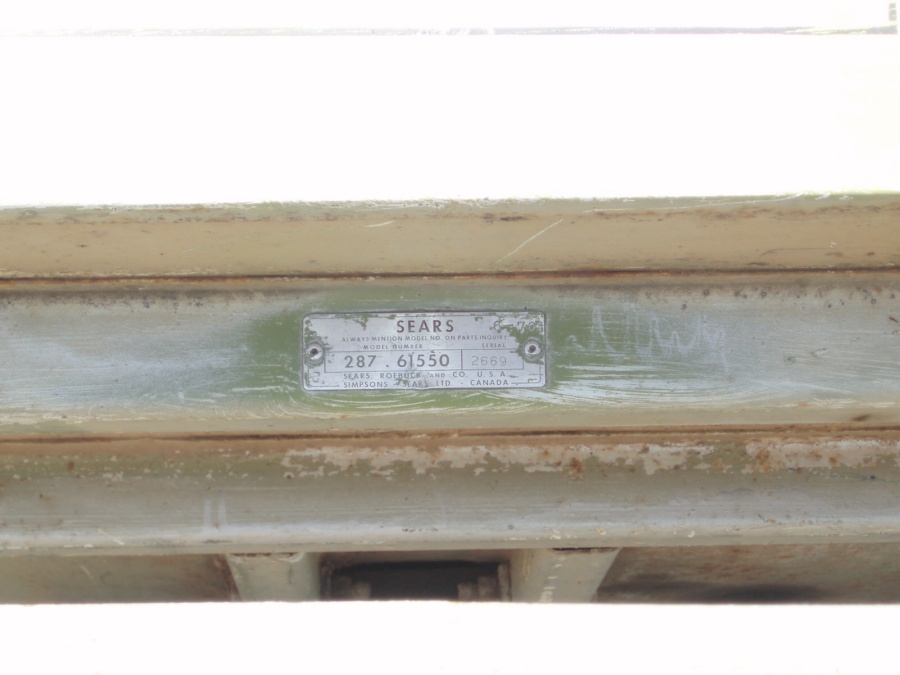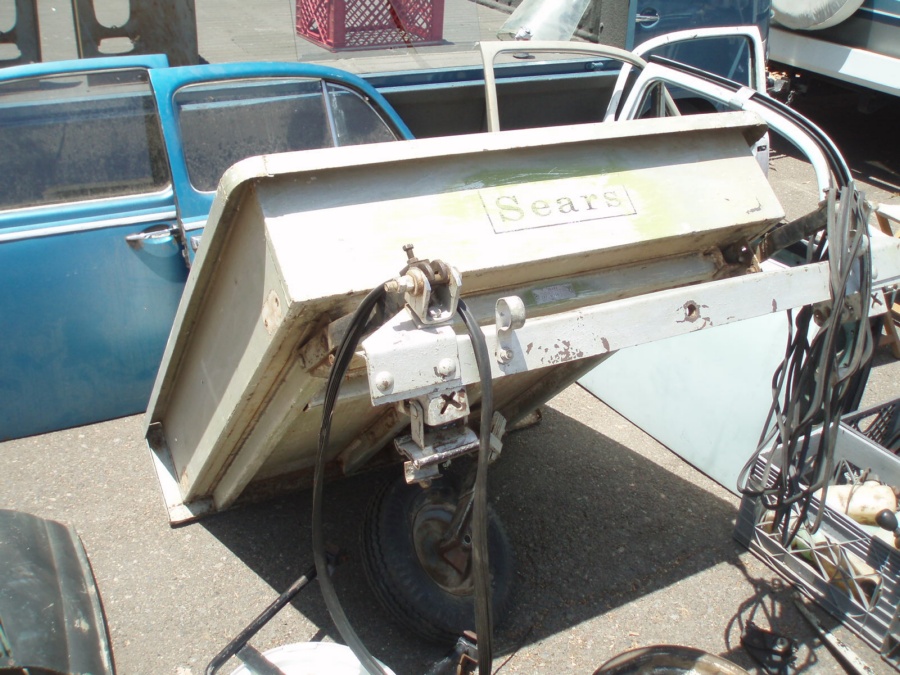 Found this on the Samba. "Allstate/sears single wheeled trailer - 1969?? panels are straight with only surface rust- hitch, suspension, wheel and pivot in good usable shape, tire needs replacing- no taillights and no paperwork.





Hi ---- I have what I think is a 1965 Sear Roebuck Co (Allstate) Tag-a-long. I am sending you some pictures as attachments. I live in south eastern Idaho. --- Don Harold








Hi, I enjoy the pictures and information on your website. I found this Allstate box trailer on Craigslist and did some work on it to run behind my 71 Beetle - lots of fun. Thanks, Jeff Horn


Found these on http://justacarguy.blogspot.com:




Pictures from the SV2's Familienfest 2010.






(Note:This trailer has a Montgomery Wards body and Frame with an Allstate Box wheel assembly.) First off, what a great and informative sight! I purchased this trailer a year or so ago and am now ready to use it. It is a Montgomery Ward model 64 KYD-13236-B serial #9328. It came with no paper work so I don't know what year it is. Also had no bumper brackets which is why I'm e-mailing you. Is anything like this available or should I start fabbing something on my own? It is going to be pulled behind my 62 camper bus. Thanks, Scott.




hello, i have a one wheeled trailer and i was wondering if u had any info on the make or model or year maybe. im sending a pic, i can also take more and send them.... i looked all over the trailer and cant find any numbers,,,, i also might be willing to sell it, my idea was to turn it in to a BBQ....thanks for your time Bill from spokane washington










Found this on www.thesamba.com in the classified. Single wheel trailer in NC. Single wheel trailer, no idea of make, rear tail gate removeable. Bought for a split van project, that has never come together due to family/time constraints.





Sir, I was pleasantly surprised to find your web site regarding mono-wheeled trailers. I recently bought some property (land) here in California. And while clearing the lot I came across an abandoned partially disassembled mono-wheeled trailer. Surprisingly once I uncovered it, I found it in outstanding condition. The license plate was last registered in 1978. The previous owner had fabricated a home designed & constructed shell/cover for the tub/bed. The trailer needed to be pressure washed, sanded and grinded in some places. I painted it (to match my 1984 two tone Ford Ranger), added two adjustable trailer jack stands to the front of it, fabricated two more stabilizer legs for the rear of it for when I have it unhitched & parked and replaced the tail lights. I have installed a fold out work bench, added an interior 110 volt power distribution system and a 4' florescent work light intending to use it as a portable work station trailer (see photo's attached). I have one problem with the trailer. When I tow it, on occasion, when I hit a bump, the wheel starts gyrating (fishtailing) back & forth causing a severe vibrating that is only ceased by bringing the trailer to a near stop. I'm not sure what is causing the tire gyrating. I have leveled the trailer so that the tire automatically trails the trailer and decreased the tire pressure, and these have helped and decreased the frequency of the problem, but I have had a couple of more instances. Any suggestions you or your fellow "mono-wheeled trailerettes" could offer will be greatly appreciated. Owned by John K. Rezek Jr.



"I found another single wheel box trailer SEARS by Sears Roebuck and Co. It needs to be reassembled, and has all the parts, has some surface rust, but is not rusted through. The owner got it after his uncle died and he does not know what year it is. I contacted Sears Parts, they still have a parts list for it (but no major parts), but could not tell me what year it is. This is the information on the identification plate;
SEARS
Model Number 287.61830 Serial 2019
SEARS, ROEBUCK AND CO. U.S.A. SIMPSONS - SEARS LTD. CANADA "
Owned by Dave.








A Clam Shell Allstate I picked up in AZ. At some point the OG mounts were swapped for what's on there now so it could be used on a lowered VW Bus. The tire was swapped out for a bigger one too. Owned by VintageWarehouse


















Glad to be included. First off, I have included a couple of pictures of my trailer with the old trailer tongue, and then with the telescoping tongue. Also have taken the old fenders off and replaced them to look a bit more modern. When I visited you site I clicked on the "see them here" link, that's where I found similar Sears "Box Trailer" features. As I looked through the web site you did have a couple of trailers that have very similar features. One noticeable difference are the slots for side railings on my trailer. Those were not added to the trailer. It was manufactured in this manner. The Sears & Roebuck model number tag is really hard to read. Click on the picture to enlarge it and it is more visible. I have a couple of views of the tag. I'll let you decide which photos to post. Also have taken the time to personalize my license plate. I look forward to seeing the trailer along side of the others. Owned by Wendell Christensen South Daytona, Florida


















Found this on ebay recently: Small Sears utility trailer. Top pops up for loading, then folds down to protect items during travel. Great for camping gear or hauling luggage. Storage compartment is approximately 4 feet wide by 5 feet long by 2 feet deep. Trailer needs some work. Some rust. Lights don't work Wheels (4.80 x 9) are 9& with 5 lugs. Located in Overland, Missouri



1949 All State/Sears single wheel trailer, good shape, min rust ready for restoration


I don't know much about this trailer I got it in a trade a few years ago. so if you have more info on this type of trailer that would be great it was built by montgomery ward co. Owned by Klint Breeding(This appears to be an Allstate Box trailer with an MW box on it. AH)





Built by sears & roebuck from 1948 to 1958. this trailer i have used for many years.i pull it with my 1930 model a ford sport coupe. the front arms mount to the rear bumpers.and the rear wheel moves 360 degrees.where you go it goes.when you back up it backs up. another words park like you have always done.no hitch or ball to worry about. 4'- 6' box total. to end of arms is 5' 6" plate is from Idaho,and it reads Ida-58-Tr.it has never been tagged by me,and i have hawled it 100's of miles i have never been stopped by C.H.P..i have been told it may be because it is a direct mount. no sway what so ever.if you are intersted in this trailer.it would be a good idea if you lived near Hemet,Ca.because i have no idea how to ship it... it also has a model a rear light and comes with all hardware and cables for mounting..P.S.it can also fit any classic car if you are willing to change the rear mounts slighty.





I suspect you know more about these trailers than I do. This is a 1956 Allstate single wheel trailer that I picked up from a good friend in Wa. state this year. It has a wooden box with a hinged metal lid. Owned by Thom



Hello, My name is Robert Rinaldi and I publish a magazine about vintage Ford farm tractors. In the next issue of the magazine we will be showing a tractor with a one-wheeled trailer. The owner does not know much about this trailer, he bought it used at a garage sale. He guessed it was a Sears.


This trailer was for sale at an OCTO show in late 03.





Found this trailer towed behind a bus at an OCTO show. I really appreceated the white walls matching the busses. Also the fourth picture has a very nice original Sears label. (AH)









This trailer was for sale in the swap are at the Classic03 and the word was it sold but I'm not sure on the Price. (AH)






Found this on The Samba.com. Sears model number 28761500, serial number 5139, Completely restored and painted to match my 67 L87 white squareback. Tows great behind either a squareback or notchback. Those are the only cars I have used with it. Interior is sprayed with gloss black bedliner material. I have also added gas struts to hold lid in up postion. Lid removes to make a box trailer and tailgate is removeable also. New tires, tubes and wiring. Trailer is unregistered and comes with Black Ca. plate.




Allstate Singlewheel Trailer. Registered in CA all current and good for another 4 years. Titled as a 1962. This is the clam shell style trailer with functioning lid and vintage interior "carpet"; it's very similiar to 1960's style american auto trunk mats. It has a few dings and the top is a little wrinkled but nothing too major. new bearings installed and I think I have another set as well. Not a very common model of trailer. Bus tailights and reverse spot light in pics have been removed as well as license plate frame. Great tire, extra arms and tire and rim included. Please contact Sean @ croftyest@yahoo.com Owned by Sean Dorman


1965 Allstate Single Wheel Trailer. I have taken the wheel assembly apart for inspection and re-lubing and this wheel assembly is in the great shape. Virtually no play. Has an original Allstate tire that should be replaced. This trailer is in pretty good shape. Very little rust. All the latches and hinges work well.















Ronnie from http://www.oldvolks.com was selling this Allstate box type trailer frame. Not sure if it sold or not, but it looked as if it was in pretty good shape. It has the an original Allstate tire in descent shape and all the mounting hardware, including the brackets. I did however forget to check the date on the mounting plaque.







I bought this double crazy wheel trailer form a guy that used it behind his single cab. It weights about 220 pounds. This is not a basket case. The trailer is disassembled now and the bottom is painted L87. There are about twelve styles of bolts and screws, all labeled. All sheet metal with extra holes are welded up. Included are the new curved tops. The originals were very thin and dented. Nothing is missing! As is, it needs either L87 on top and inside, and the frame, springers, wheels and spare painted. Owned by Dave Pasco.





Ronnie brought out his new find to the SV2's Familienfest show in 2002. Owned by Ronnie of http://www.oldvolks.com







Wade from http://dropgates.com sent me this pics from the 2003 BBB show. Notice the rack on the top of the trailer. It appears to and is believed to be original.




Found this on E-bay recently. Quote from the seller: "I believe this is a SEARS 1 wheel trailer. it has 2 mounting points that mount to the vehicle bumper. approx 4' x 4' and 2' deep with a hinged cover. It is all metal and not all beat up or rusted out. it will come with a spare wheel and tire."







This trailer now owned by Hot Dog Fred. His new Allstate box trailer and the hitches on the tube bumper on his single cab from the 2010 Classic.








These two trailers are submitted by Jim of Cotati. The one attached to the bus is Jims and the other, is his buddies, Aaron of Santa Rosa.